MAZDA NB1 CX-3, CX-9, 3, 6 Navigation SD Card MAP UK and Europe 2016 - 2017 KD5166EZ1D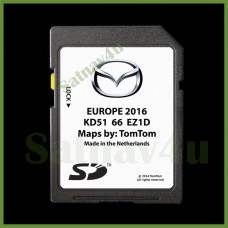 Mazda NB1 Tom Tom Navigation SD card 2016-2017
Part Number: KD51 66 EZ1D
Suitable for following cars:
Mazda CX-5 2013 - 2015
Mazda CX-9 2013 - 2015
Mazda 6 2013 - 2014
Countries covered:
Andorra, Austria, Belgium, Croatia, Czech Republic, Denmark, Estonia, Finland, France, Germany, Gibraltar, Greece, Hungary, Ireland, Italy, Liechtenstein, Lithuania, Luxembourg, Malta, Monaco, The Netherlands, Season, Poland, Portugal, San Marino, Slovakia, Slovenia, Spain (incl. Canary Islands), Sweden, United States, Vatican City, United Kingdom (including Channel Islands).
Partial coverage:
Bulgaria, Latvia, Romania, Turkey, Ukraine, Russian Federation.
Connecting Roads:
Albania, Belarus, Bosnia and Herzegovina, Macedonia, Moldavia, Montenegro, Serbia.
*The SD card will be sent in its original SD case but without brochure and big packaging