Mercedes V17 Audio20 A218 Navigation SD Card For A B CLA GLA Class Latest Map Update 2022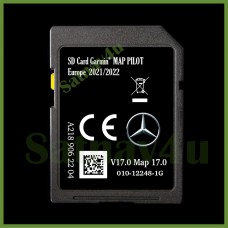 Mercedes V17 A218 Navigation SD card Garmin Auduo20 Map PILOT 2021 - 2022
with speed cameras
Part number - A218 906 22 04
PLEASE CHECK BY REMOVING YOUR ORIGINAL A218 SD CARD AND MAKING SURE YOU NAVIGATION STOPS WORKING, IF IT DOESN'T YOU MAY BE USING A BUILT IN HARD DRIVE DEVICE (COMMAND OR BECKER) THIS IS ONLY ON A VERY SMALL PERCENTAGE OF MERCEDES.
NOT FOR THE C CLASS WITH TOUCHPAD.
IF YOU DON'T HAVE CURRENT WORKING NAVIGATION CARD, PLEASE CONTACT US BEFORE PURCHASE.
The part number of your original navigation card must start with A218
Compatibile with:
A-CLASS (2015 - 2019)
B-CLASS (2015 - 2019)
CLA-CLASS (2015 - 2019)
GLA-CLASS (2015 - 2019)
C CLASS (form 08/2017 - 2019)
SLC-CLASS (R172)(from 04/2016)
GLC CLASS (from 08/2017 - 2018)
E-CLASS (FROM 12/2014 - 2017)
GLE-CLASS (C292)(FROM 07/2015)
GLS-CLASS (BR166 W166) (>01/16)
CLS-CLASS (FROM 09/2014)
Countries covered:
Andorra, Austria, Belgium, Bulgaria, Croatia, the Czech Republic, Denmark, Estonia, Finland, France, Germany, Gibraltar, Greece, Hungary, Iceland, Ireland, Italy, Kazakhstan, Latvia, Liechtenstein, Lithuania, Luxembourg, Macedonia, Malta, Monaco, the Netherlands, Norway, Poland, Portugal (including Madeira and the Azores), Romania, Russia (including Kaliningrad Oblast), San Marino, Serbia, Slovakia, Slovenia, Spain (including the Canary Islands), Sweden, Switzerland, Ukraine, the United Kingdom (England, Wales, Scotland, Northern Ireland) plus the Channel Islands and the Isle of Man, Vatican City.