NISSAN Connect 2 V6 navigation SD CARD LATEST MAP Europe & UK 2021 - 2022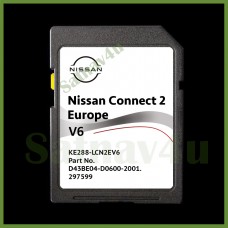 NISSAN Connect 2 V6 SD CARD LATEST MAP UK and EU 2021 -2022
LATEST ORIGINAL Genuine Nissan Connect LCN 2 Europe V6 Map SD Card
Part No: KE288-LCN2EV6
2021 - 2022 Ver. 6 LATEST MAPS
Suitable for following cars with Connect LCN 2 navigation system:
E-NV200 (from 2014)
NOTE (from 2013 - 2014)
JUKE (from 2013 - 2014)
LEAF (from 2013 - 2015) ,* not for Nissan EV NAVI
MICRA (from 2013 - 2015)
Cover All Europe and UK:
Germany, Belgium, France, Portugal, United Kingdom, Ireland, Spain, Poland, Italy, Sweden, Austria, Bulgaria, Switzerland, Czech Republic, Denmark, Estonia, Finland, Greece, Croatia, Hungary, Lithuania, Luxembourg, Latvia, Netherlands, Norway, Romania, Slovak Republic, Slovenia, Turkey.
Supported languages:
English, Dutch, Greek, French, German, Finnish, Italian, Danish, Polish, Norwegian, Portuguese, Russian, Spanish, Slovak, Turkish, Hungarian, Swedish, Czech.
Old Card checklist, your old card should have one of these part numbers to be compatible.
25920-1KA0A
25920-1KA0B
25920-1KA0C
25920-1KA0D
KE288-LCN2E15
KE288-LCN2EV2
KE288-LCN2EV3
KE288-LCN2EV4
KE288-LCN2EV5


If You Have A Different Part Number On Your Old Card To The Above List. Please Send A Message.
Nissan connect 2 system (SD card fits in TOP right hand corner of navigation unit and SD slot is without cover)
*No programming needed – Just insert straight into Your Nissan unit and the system will install itself
*The SD-Card will be sent without original box and brochure