Fiat 124 Spider Connect Navigation SD Card Map Sat Nav Europe and UK 2020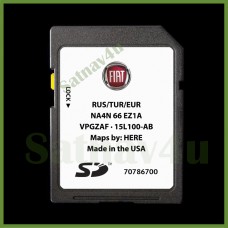 FIAT 124 Navigation SD Card for 7-Inch Full Color Touch Screen Display 2020
To upgrade your existing 7'' radio (without navigation) to a 3D Navigation unit.
Parts number: NA4N 66 EZ1
Not available / Not suitable for 3'' radio.
Suitable for the following vehicles models:
Fiat 124 Spider [from 06.2016 - 2021]
Fiat 124 Spider Classica [from 06.2016 - 2021]
Fiat 124 Spider Lusso [from 06.2016 - 2021]
Fiat 124 Spider Abarth [from 09.2016 - 2021]
Fiat 124 Spider Rally [from 09.2016 - 2021]
Only suitable for vehicles with the central 7 inch touch screen
Once the SD card is installed in a vehicle it cannot be used in any other vehicle.
Free updates of the map material are possible up to 3 years after activation in the vehicle Download via Fiat Toolbox.
The SD card contains:
Austria, Albania, Andora, Belarus, Belgium, Bolgaria, Bosnia Herzegovina, Hungary, Germany, Gibraltar, Vatican, Greece, Denmark, Ireland, Iceland, Spain, Italy, Kazahstan, Kosovo, Lithuania, Leichtenstein, Luxembourg, Malta, Moldova, Monaco, Montenegro, Netherlands, Norway, Poland, Portugal, Macedonia, Russia, Romania, San Marino, Serbia, Slovenia, Slovakia, United Kingdom, Turkey, Ukraine, Finland, France, Croatia, Chezh republic, Switzerland, Sweden, Estonia.
Languages:
English, German, French, Italian, Polish, Czech, Spanish, Greek, Danish, Finnish, Dutch, Norwegian, Hungarian, Romanian, Russian, Slovak, Swedish, Turkish
Not suitable for USA cars!
This SD-Card is brand new and has never been used.
I can guarantee the SD-Card has not been married to any car and can assure you it's 100% working perfectly.
The SD-Card will be sent without original box and brochure.