Mazda Navigation SD Card for NEW MZD 3, CX-30, CX30 SAT NAV Map Europe and UK 2021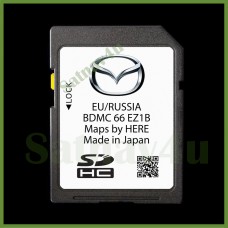 Navigation SD card for New Mazda 3, CX-30 map 2021
Part Number: BDMC-66-EZ1B
Suitable for following cars:
Mazda 3 (from 2019 to 2021) with New widescreen
Mazda CX-30 (from 2019 to 2021) with New widescreen
Countries covered:
Albania, Germany, Andorra, Austria, Belarus, Bosnia and Herzegovina, Bulgaria, Belgium, Vatican City, Croatia, Denmark, Slovakia, Slovenia, Spain, Estonia, Finland, France, Gibraltar, Greece, Hungary, Ireland, Iceland, Italy, Kazakhstan, Kosovo, Latvia, Liechtenstein, Lithuania, Luxembourg, Malta, Moldova, Montenegro, Monaco, Norway, Netherlands, Poland, Portugal, United Kingdom, Czech Republic, Republic of Macedonia, Romania, Russia, San Marino, Serbia, Sweden, Switzerland, Turkey and Ukraine.
Supported languages:
English, French, Dutch, Italian, Portuguese, Espanol, Netherlands, Dansk, Russian, Svenska, Suomi, Norsk, Cestina, Slovensky, Magyar, Turkсe, Polski, Eesti, Latviesu valoda, Lietuviu, Greece, Hrvatski, Bulgarian, Romana, Srpski, Hebrew, Ukranian.
This SD-Card is brand new and has never been used.
I can guarantee the SD-Card has not been married to any car and can assure you it's 100% working perfectly.
The SD-Card will be sent without original box and brochure.