MERCEDES NTG1 V17 NAVIGATION MAP SAT NAV UPDATE DISC 2017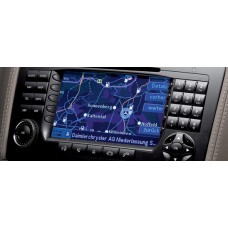 2017 Mercedes NTG1 V17.0 Sat Nav Map Update DVD





Mercedes Comand APS NTG1 V16.0 Europe Sat Nav Navigation Disc
This is the latest available update for NTG1 satnavs V17
A211 827 00 01
This disc is for the DVD based navigation systems





COMPATIBLE:
E-Class from 2002 to 06/2008 (Model W211)
CLS-Class from 2004 to 04/2008 (Model C219)
SL-Class (R230) from 07/2004 to 04/2008
CL-Class (W215) from 09/2003 to 09/2006
S-Class (W220) from 09/2003 to 09/2005
SLK-Class (R171) from 03/2004 to 04/2008
Maybach





NOT for the 2009 MY with HARD DRIVE navigation





It is put into the navigation DVD drive in the boot (trunk) of the car. It is not suitable for cars that have a CD that only covers one to three countries in the head unit and not suitable for the latest MY2009 facelift cars that have a built in hard disk.





COVERAGE
Germany, Austria, Switzerland, Liechtenstein, Netherlands, Belgium, Luxembourg, France, Monaco, Spain, Andorra, Gibraltar, Portugal, Italy, San Marino, Vatican City, Denmark, Sweden, Norway, Finland, Great Britain, Ireland, Czech Republic, Slovak Republic , Hungary, Greece, Estonia, Latvia, Lithuania, Slovenia, Croatia, Poland, Bulgaria and Romania.
TMC
A,B,CH,D,DK,GB,F,I,NL,S





INSTALLATION


Instalation for this disc is just a simple case of removing your old disc and inserting the new, your firmware will auto update and takes between 4-45 minutes, once complete you will have the most upto date map and poi data base.