Skoda Amundsen2 MIB2 Navigation SD Card Map Europe and UK 2021 - 2022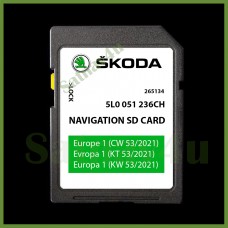 SKODA AMUNDSEN2 MIB2 NAVIGATION SD CARD 2021 - 2022
PART NUMBER: 5L0051236CH
Platform: Amundsen2
System: MIB2
Please note: Not suitable for Skoda Amundsen1 MIB-Gen1/Discovery Media1 (MIB1, Gen1)
Please find device part number in menu, settings.
Mib1 starts with 5E.... – this card not correct
Mib2 starts with 5L... or 5Q.... – yes, card correct for your navigation system
If you not sure, please send us photo of your navigation unit with device part number.
Car Models:
Octavia III (5E) from 03/2015 - 2020
Superb III (3V) from 03/2015 - 2020
Fabia III (NJ) from 09/2014 - 2020
Rapid (NH) from 04/2015 - 2020
Yeti (5L) from 09/2014 - 2020
Kodiaq (NS) from 09/2016 - 2020
Karoq from 2017 - 2020
Country Coverage:
Andorra, Austria, Belgium, Belarus, Bosnia and Herzegovina, Bulgaria, Canary Islands, Croatia, Cyprus, Czech Republic, Denmark, Estonia, Finland, France, Germany, Gibraltar, Greece, Hungary, Iceland, Ireland, Italy, Kosovo, Kazakhstan, Latvia, Liechtenstein, Lithuania, Luxembourg, Macedonia, Malta, Monaco, Moldova, Netherlands, Norway, Poland, Portugal, Romania, Russia, San Marino, Serbia, Slovakia, Slovenia, Spain, Sweden, Switzerland, Turkey, Ukraine, The United Kingdom, Vatican City.
*In this auction I sell only one SD Card, without original box and brochure.
*All other photos are only for reference and additional information.