TOYOTA SAT NAV NAVIGATION DVD DISC Europe E21 2016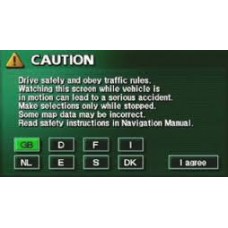 TOYOTA

Navigation DVD

Europe2016 E21
For navigation systems TNS 600/700, touchscreen navigation devices, generations 3 and 5 of toyota from manufacturing year 2003 on.





Compatible

:
RAV4, Celica, Hilux, MR2, Landcruiser 90, Landcruiser 100, Landcruiser 120, Landcruiser 150, Landcruiser 200, Previa, Prius, Avensis, Corolla, Corolla Verso, Auris, Avensis Verso, Camry, Hiace, Verso, Yaris.



Countries covered:
DVD 1:
North covers

:
Germany, Austria, Switzerland, Liechtenstein,The Netherlands, Belgium, Luxembourg, Denmark, Sweden, Norway , Finland, Latvia, Estonia, Lithuania, Poland, Slovak republic.


DVD 2:
WEST covers

:UK, Ireland, The Netherlands, Belgium,

Luxembourg

, Portugal, Spain, Andorra,France, Switzerland, Iceland, Lichtenstein, Italy, San Marino, Vatican City,Monaco and islands: Sardinia, Sicily, Corsica.


DVD 3:
CENTRAL covers

:Germany, Austria, Belgium, Switzerland, Lichtenstein, Luxembourg, Holland, Italy, France, Monaco, San Marino, Vatican City