CITROEN eMayWay RT6 SAT NAVIGATION MAP UPDATE SD CARD 2018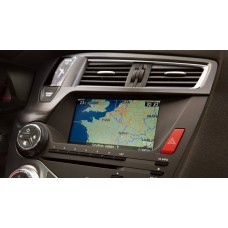 Citroen eMayWay RT6 2018




Not for
CITROËN 2015 TOUCHSCREEN 7" WITH MIRRORSCREEN and
CITROËN SAT NAV MYWAY (SD CARD)

USB stick only:

CITROËN DS3 2012 – 2015 EMYWAY
CITROËN DS4 2012 - 2015 EMYWAY


CITROËN DS5 2012 – 2015

EMYWAY


CITROËN C3 PICASSO 2012 – 2015

EMYWAY
CITROËN C4 2012 – 2015

EMYWAY
CITROËN C4 PICASSO 2012 - 2013 EMYWAY
CITROËN C5 2012 - 2015 EMYWAY
CITROËN C8 2012 - 2014 EMYWAY
CITROËN BERLINGO 2012 - 2015 EMYWAY


CITROËN JUMPY (DISPATCH IN UK) 2012 - 2015 EMYWAY



New GPS Map 2015-2 Edition





This newly updated HERE map of Europe for your Citroën eMyWay (RT6) navigation system covers millions of square kilometers and many points of interest in the following countries:
USB Stick

1: Albania, Austria, Belarus, Belgium, Bosnia Herzegovina, Bulgaria, Croatia, Czech Republic, Denmark, Estonia, Finland, France, Germany, Greece, Hungary, Ireland, Italy, Kosovo, Latvia, Lithuania, Luxembourg, Macedonia (F.Y.R.O.M), Moldova, Montenegro, Netherlands, Norway, Poland, Portugal, Romania, Serbia, Slovak Republic, Slovenia, Spain, Sweden, Switzerland, Ukraine, United Kingdom.





In this new Citroën map update approximately 14 164 roundabouts, 286 594 street names, 15 130 one way streets and 39 764 turn restrictions have been added or amended.





In addition to precise routes, these clear, rich maps feature many POIs: golf courses, theatres, hotels, car parks and much more making this latest edition of Citroën digital map the perfect guide to motoring through Europe.





This HERE map is compatible with the following Citroën Sat Nav: eMyWay (RT6).





Please note this USB product requires activation before use. To enable this, a dedicated activation code will be delivered along with instructions on how to enter this into your navigation system.
We will get instruction for activation straight after purchase.