NISSAN CONNECT 3 V7 NAVIGATION SD CARD LATEST MAP EUROPE & UK 2022 - 2023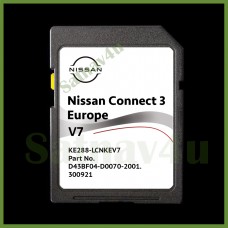 NISSAN Connect 3 V7 SD CARD LATEST MAP 2022 - 2023
LATEST ORIGINAL Genuine Nissan Connect LCN 3 Europe V6 Map SD Card
Part No: D43BF04-D0070-2001
2021 - 2022 Ver. 6 LATEST MAPS
Suitable for following cars with Connect LCN 3 navigation system:
MICRA (from 2015)
NOTE (from 2015)
PULSAR (from 2014)
QASHQAI (from 2013)
JUKE (from 2014)
X-TRAIL (from 2015)
TIIDA (from 2014)
NAVARA (from 2015)
Cover All Europe and UK:
Austria, Belgium, Bulgaria, Croatia, Czech Republic, Denmark, Estonia, Finland, France, Germany, Greece, Hungary, Ireland, Italy, Latvia, Lithuania, Luxembourg, Netherlands, Norway, Poland, Portugal, Romania, Slovak Republic, Slovenia, Spain, Sweden, Switzerland, Turkey, United Kingdom.
Supported languages:
English, Dutch, Greek, French, German, Finnish, Italian, Danish, Polish, Norwegian, Portuguese, Russian, Spanish, Slovak, Turkish, Hungarian, Swedish, Czech.
Old Card checklist, your old card should have one of these part numbers to be compatible.
25920 4EA0A
25920 4EA0B
25920 4EA0C
25920 4KJ0A
25920 4KJ0B
25920 4KJ0C
25920 4KJ0D
KE288 LCNKEV1
KE288 LCNKEV2
KE288 LCNKEV3
KE288 LCNKEV4
KE288 LCNKEV5
If You Have A Different Part Number On Your Old Card To The Above List. Please Send A Message.
No programming needed – Just insert straight into Your Nissan unit and the system will install itself
The SD-Card will be sent without original box and brochure